Purpose of The Academy of SAKE Corporation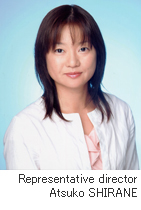 I have a taste for NIHONSHU (Sake; Japanese rice wine), in the meantime I started to visit sake brewery. As I listen to the people who were there, I understood that many of them are anxious about the shrinking NIHONSHU market in Japan today. However, with the Japanese food boom in foreign countries recently, also their interests in NIHONSHU is getting higher outside Japan. The interest for NIHONSHU is beginning to grow slowly with the younger generation in Japan too. Not to stop this movement, I would like to be able to explain and pass on the knowledge of NIHONSHU (includes Japanese Traditional Culture) to the others, I thought.
And another thing I was wondering, there are various types of foreign liquors in a line at the bars in Japan. Just listening to the stories of each liquors and brewery, I can often feel close to their birth countries. However, I have never seen NIHONSHU lined at the bars overseas except at the Japanese restaurants. The western liquors are accepted in Japan like this, it might be possible to spread these wonderful NIHONSHU all over the world. Not only to sell well but also to spread NIHONSHU, which I love, abroad, I thought I could do something. Then I came up with the idea of Seminars and education courses would be helpful to pass on the knowledge and the know-how to the others and to make companies to tell the values of NIHONSHU together. I decided to ask for Full cooperation about the textbooks, the know-how and so on to Mr. Takahisa UESUGI, a consultant of NIHONSHU who is also anxious about the situation of NIHONSHU today. We offer the courses full of practical tools so the people, who like NIHONSHU or want to spread NIHONSHU abroad, can learn easily and will be able to pass it on properly. Also, overseas, we have activities like NIHONSHU tasting and PR party to increase fans of NIHONSHU.
Training and supporting the person who can work internationally and planning the Project Development, NIHONSHU education as a core, we hope to continue evolving with our companies and our future companies.
In addition, not only the courses also though IT introduction and website authoring, we support to spread the wonderfulness of NIHONSHU. We do hope you will give us further encouragement for that too.
| | |
| --- | --- |
| Trade name | The Academy of SAKE Corporation |
| Representative | Representative director Atsuko SHIRANE |
| Director | Director Takahisa Uesugi |
| Head office | 1-25-6 Daizawa Setagaya-ku, Tokyo 155-0032 |
| Establishment of the company | In May, 2004 |
| Capital fund | 20 million yen |
| Business | Supporting IT introduction and website authoring to introduce and promote NIHONSHU;NIHONSHUdendoshi, course (NIHONSHU missionary course)Consulting for NIHONSHU sales promotionDevelopment of NIHONSHU and the products with NIHONSHUDesigning the package for NIHONSHU |
NIHONSHU Academy Corporation Ownership of intellectual property (trademark registration)
Classification of designated goods or services as well as goods and services: Type16 books and other materials/type 41 teaching the arts, the crafts and the sports or the knowledge.
| | |
| --- | --- |
| Aug 5, 2005 | ;NIHONSHUdendoshi,(NIHONSHU missionary) |
Editor of text
Takahisa UESUGI (General manager of Planning and Development of Nihonkaishuhan Corporation, Representative director of Limited Company Sanai)
In 1952, born in Tokyo. After graduate from Faculty of law, Gakushuin University, he put himself in the publishing industry and established an editorial production; work mainly at the genre of food, drink and travel. Afterward, he succeeded to an old sweet shop "Inoue" in Nihonbashi established sixty years ago. While he runs a restaurant in Akasaka, an izakaya (Japanese style bar) and so on, he worked as a consultant of the food industry. In the meantime, He opened "BAR RAKU" at Japanese and western liquor shop in Ikebukuro Tobu department store. Various media picked it up as a bar opens earliest in Japan and closes earliest in the world. Especially, by the thorough pursuit of customer satisfaction, he developed the body-friendly menu. Even now, 15 years later, it keeps the best sales per floor space.
He invented new sales method of NIHONSHU and created the market of young ladies at DEPACHIKA(basement floor of department store) where all the shops are competing each other. He is also called a revolutionary of NIHONSHU sales.
The ninth family head of Viscount UESUGI family, branch family of Count Uesugi family descendants of Kenshin and Yozan UESUGI.
About;日本酒伝道師®;NIHONSHUdendoshi(NIHONSHU missionary)
is a registered trademark of Atsuko SHIRANE, the president of NIHONSHUdendoshi course.(Number of trademark registration; 4884797)